Hosford-Abernethy
Neighborhood Info
Overview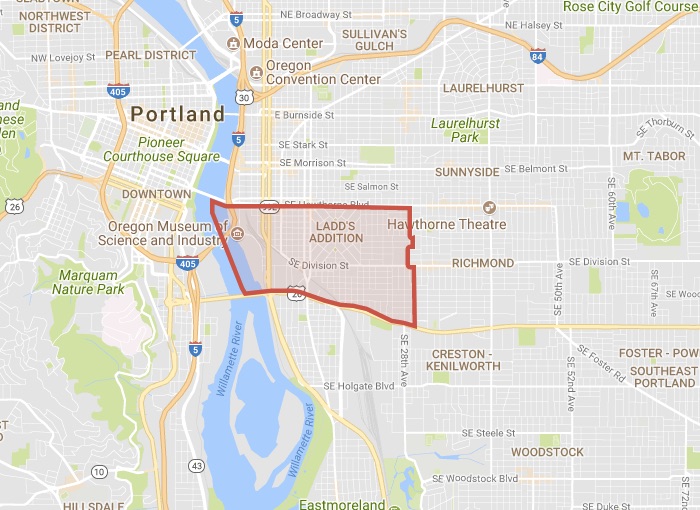 The Hosford-Abernethy Neighborhood is Portland's gateway to the Southeast. Because of its location in the city, it has a unique array of residential, commercial and light industrial blocks that make for a diverse and vibrant community.
The neighborhood received its official name (HAND) back in the 1970s, as Portlanders began to create neighborhood associations. Because of this, the neighborhood is actually comprised of several small long-established neighborhoods, including Ladd's Addition, Colonial Heights, and the Clinton Street Neighborhood.
Many homes in the area are grand examples of historical architecture. Many of the houses were built between 1905 and 1920. The neighborhood has an assortment of architectural styles that include Craftsman bungalows, English cottages, and American Four-Squares to name a few. In past years, the quality of maintenance tended to far on the side of "in need of repair". However, these days, you will find many more homes that have been either preserved by the owner, or restored by an investor. There are also a growing number of new builds, though not as many in other areas of town. Numerous apartment buildings are located on the west side of the neighborhood, closer to the downtown.
There are over 200 restaurants, bars and coffee shops, throughout the neighborhood, giving you plenty of food and drink options well within walking distance. It even has not one, but two well established food cart lots.
Portland Public School's Cleveland High School is located here, along with Hosford Middle School, and Abernethy Elementary.
The neighborhood is also very accessible, with a bike score of 98, and with good public transit options.
Favorite Places
General
Bars
Restaurants
Coffee
Current Neighborhood Sales Data